This is my first time participating in the Crazy Cooking Challenge!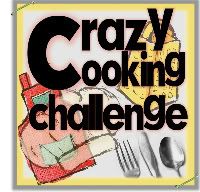 The theme for this month is "Chocolate Chip Cookies". The rules are simple: You MUST bake and post a NEW recipe found somewhere on a blog. This can NOT be an old recipe you've previously posted. Easy enough right? I thought so! I search for a unique recipe that would capture the theme of the challenge. I came across these
red velvet cookies at How Sweet It Is
. They were just what I was looking for! The recipe was easy to modify, and tasted fantastic! I am sure we will be making these again- knowing my husband they will not last long. Check out the other challenge recipe by joining the blog hope below!
Red Velvet Chocolate Chip Cookies
makes 12-15 cookies
1/2 cup butter
1/2 cup sugar
1/2 cup brown sugar
1 egg
1 teaspoon vanilla
1 1/2 cups all purpose flour (I used gluten-free mix- Pamela's)
1 teaspoon baking soda
1/4 teaspoon salt
1/3 cup cocoa powder
1 teaspoon red food coloring
1/2 cup chocolate chips
Instructions
Preheat oven to 375.
Cream butter and sugars together until fluffy. Add egg and vanilla and combine until smooth. Beat in red food coloring. Stir in cocoa, flour, baking soda and salt until just combined. Fold in chocolate chips.
Using an ice cream scoop, scoop out 1-2 tablespoons of dough and set on baking sheet. Bake for 10-12 minutes.