Time for another Crazy Cooking Challenge!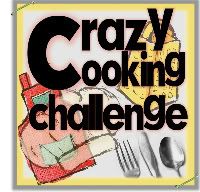 The theme for this month is Fudge! I am not a big fudge eater (that silly chocolate thing), but I always love to try something new. I usually let Ron take charge of the fudge around the holidays because he has a great recipe from this Grandmother. However, I wanted to try something new and see if my fudge making skills were up to par.
This is a recipe from Jenn at Eat Cake For Dinner
. I have to say the name was the first thing that caught my eye because who wouldn't chuckle about Phat Cow fudge? It was just what I was looking for- easy and unique. I love how it looks like a spotted cow! This recipe is so yummy! The fudge melts in your mouth and is so creamy. Perfect addition to a holiday fudge arsenal. Please remember to vote below and check out the other fudge recipes!
recipe from Jenn at Eat Cake For Dinner
20 oz Hershey's milk chocolate bars, broken into pieces
1 (12 oz.) pkg. semi-sweet chocolate chips
1 c. (2 cubes) butter, cut into pieces- No substitutes
1 (12 oz.) can evaporated milk
2 1/2 c. mini marshmallows
4 c. frozen mini marshmallows
1 Lb. walnuts, chopped, opt.
Place four cups of mini marshmallows into the freezer. In a large bowl, prepare broken milk chocolate bars, chocolate chips and butter pieces; set aside. In a large pan, combine sugar, evaporated milk and 2 1/2 cups mini marshmallows. Bring to a boil over medium heat while stirring constantly, then, continue to cook and stir at a light boil for 7 minutes. Remove from heat and immediately pour over the chocolate/butter mixture. With a wooden spoon, stir the mixture until the chocolate is melted and loses its shine (Don't worry if it looks separated, just keep stirring). Stir in the vanilla. Add the frozen marshmallows and walnuts. Spread into a buttered cookie sheet. Cool completely. Cut into pieces and serve. Store in an airtight plastic container (can be stored for about two weeks).
Labels: Candy, chocolate, crazy cooking challenge, dessert, Holiday