Time for another Crazy Cooking Challenge!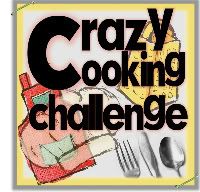 This months theme was chicken noodle soup. I have a few great chicken noodle soup recipes, but I wanted to step out of my comfort zone and try something new. I came across this recipe for
Thai Chicken Noodle Soup at Bev Cooks
. This soup is really easy and tastes delicious! I came across Bev Cooks from another blog I follow, and I love her recipes! I can't wait to try more in the future. I love the simplicity of the slow cooker, plus the longer cooking time allows the flavors to become fantastic. Make sure to add the cilantro, jalapenos, and a big squeeze of fresh lime! I am really excited to see what the other bloggers come up with- who doesn't love a big bowl of chicken soup on a cold winter day!
Stay tune for next February's challenge: Chocolate Cake!
Slow Cooker Thai Chicken Noodle Soup
3 frozen or thawed chicken breast halves
3 or 4 cloves garlic, minced
2 Tbs. freshly minced ginger
2 (13.5 oz) cans coconut milk
4 cups chicken stock
3 Tbs. soy sauce
4 oz thin rice noodles
2 red bell peppers, diced
2 cups fresh beans sprouts
2 jalapenos, finely sliced
2 limes
cilantro for garnish
coarse salt and freshly ground pepper
Instructions
In a slow cooker, add the coconut milk, broth, garlic, ginger, chicken, soy sauce, a pinch of salt and freshly ground pepper. Cook on high for 3 hours.
Using tongs, remove chicken from pot and shred with two forks. Return to pot. Add the rice noodles, bell pepper and sprouts.
Cook 30 more minutes. Taste and add more salt and pepper if needed.
Serve each bowl garnished with sliced jalapeno, a good handful of cilantro and some gigantic squirts of lime.