Another Crazy Cooking Challenge is here! Can you believe a month has gone by??? It feels like time flew by so quickly. The theme for this month's challenege is Spaghetti.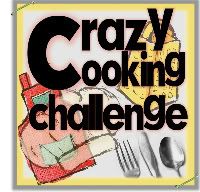 I was really excited when Tina unveiled the theme last month because I love spaghetti. I think if I had to choose one comfort food that really makes my day it would be spaghetti. I have a great sauce recipe I posted early on in my blog that we use all the time. However, this was a fun chance to try a different recipe. While browsing different sites I came across
Spaghetti Pie from Edesia's Notebook
. The recipe reminded me of a dish my Mom made when I was a kid called Spaghetti Pizza. I knew I found my recipe for the Challenge! This recipe is really simple and has great flavor. I loved the creamy flavor from the cream cheese and sour cream paired with the savory sauce. This is a wonderful weeknight meal joined with a crisp sald and you have a winner! Check out my fellow bloggers below for more fantastic spaghetti recipes!
1 small white onion, diced
1 1/2 cup light sour cream
4 oz cream cheese, softened
1/2 cup green onions, sliced
1 1/2 cup cheddar cheese, shredded
Instructions
Preheat oven to 350 degrees.
Heat oil in a large nonstick skillet over medium heat. Add onions and garlic and saute until onions begin to soften. Add ground beef and cook until browned, stirring to crumble. Drain well, and return meat to pan. Stir in tomato sauce, salt, pepper, sugar, and Italian seasoning. Bring to a boil; reduce heat, and simmer for 10 minutes

.
Meanwhile, boil spaghetti according to package directions. Combine the sour cream, cream cheese, and green onions in a medium bowl and set aside

.
Place the spaghetti noodles in a 2-quart casserole dish coated with cooking spray. Spread the sour cream mixture over spaghetti noodles. Top with meat mixture. Cover and bake for 25 minutes. Uncover, sprinkle with cheese, and bake an additional 5 minutes or until cheese is melted and bubbly
Labels: beef, casserole, crazy cooking challenge, italian, pasta