June's Crazy Cooking Challenge has arrived!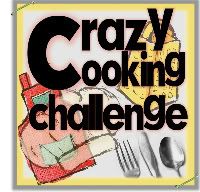 The theme for this month is fruit smoothies/shakes. I have to admit I am not a big smoothie or shake person. For breakfast I always prefer an egg over a smoothie. However, I was happy to take the challenge and fins something yummy and different. My husband worries about me getting enough iron since we found out we were pregnant because I have had so may food aversions. I thought this was a great opportunity to add a little spinach to my smoothie for extra nutrients. I searched to web for different smoothie recipes and decided on a
blackberry smoothie from Hot N' Sweet Bowl
. I followed the recipe, but added the spinach and a little extra ice to create the finished product. I loved the flavors of the frozen treat! The blackberries have a nice tartness next to the sweetness of the vanilla yogurt. Check of Tina's blog for more information (or to join the fun!) on the Crazy Cooking Challenge.
Ingredients
1/2 cup frozen blackberries
3/4 cup low fat vanilla yogurt
1/4 cup skim milk
1 small handful of baby spinach
4-5 ice cubes
Instructions
Add all ingredients to blender and blend until smooth. Pour into a glass and enjoy.
Labels: breakfast, crazy cooking challenge, drinks, fruit, gluten free, vegetarian