Time for July's Crazy Cooking Challenge!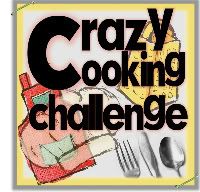 The theme for this month is Fried Chicken! I have to admit I was a little nervous about the theme. I live in Wisconsin and I eat broasted chicken at weddings. I don't think I know anyone who makes fried chicken from scratch.... fried cheese curds that is another story. Needless to say, this was going to be something new and different for me to try. I saw a program on Food Network and they discussed Art Smith's fried chicken and claimed it was the best. I looked all over the web for a recipe, and I finally came across
this recipe for Art's chicken at What's On My Plate
. I was pleasantly surprised at how easy the recipe appeared, and decided that this was the one! This recipe is simple, but takes planning because the chicken needs to brine and soak in buttermilk. After the chicken was done soaking I went to work. Again, this recipe is really simple, but I think perfecting a fried chicken takes practice! I put Ron in charge of the frying since I did all the prep. We had a little issue with some of the coating falling off, but we reduced the heat a touch and it helped keep the coating intact. I really loved the flavors of this recipe! The crispy coating is so yummy and full of flavor (we added a few more components). The brine also gives the chicken meat a nice touch of salt. I am not sure we will be trying more fried chicken recipes, but it sure was fun to step outside the box! If you are interested in joining the challenge visit
Tina's blog
to sign up!
Ingredients
1/4 cup kosher salt
4 quarts cold water
One 2-3 pound chicken, cut into 8 pieces
1 quart buttermilk
2 tablespoons Tabasco (or any other hot sauce)
2 cups all-purpose flour
1 tablespoon baking powder
2 teaspoons garlic powder
1 1/2 teaspoons Old Bay Seasoning
1 teaspoon cayenne pepper
1 tsp onion powder
1/2 tsp paprika
1 teaspoon freshly ground black pepper
2 eggs
vegetable, for frying
Instructions
In a pot, combine 1/4 cup of salt and the water. Stir to dissolve. Add the chicken to the pot and refrigerate overnight (about 8 hours).
Discard the brine, rinse out the pot and rinse the chicken well to remove the salt. Pour the buttermilk in the pot with Tabasco and add the chicken back to the pot. Allow the chicken to marinate for about 8 hours.
In a shallow bowl or large plate, mix the flour, baking powder, and seasonings. Remove the chicken from the marinade and set aside. Crack the eggs into the remaining marinade and whisk to combine. Dredge the chicken in flour mixture, dip into buttermilk mixture and dredge once more in the flour mixture shaking off excess flour.
In a large cast-iron skillet, heat 1 inch of oil to 375°. Fry the chicken in batches until golden and cooked through, about 6-7 minutes per side. Drain on paper towels and serve.