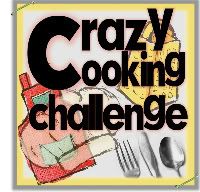 Last month I was very excited to recieve the Ultimate Recipe for my submission of
Slow Cooker Thai Chicken Noodle Soup
! The theme for February is chocolate cake which fits perfectly considering Valentine's Day is right around the corner. I searched for an easy recipe that could be adapted into a gluten free dessert. After making the round on pinterest I found
Better Than Sex Cake from Barefoot and Baking
. I have had versions of this cake when I was in high school, but have not had it since. I figured that it couldn't be too hard after reading the recipe, and what could be wrong with a cake with a name that carried a little sass?! This recipe is really easy to put together, and we found a great gluten free cake mix and fudge. I think this would be a great addition to a girls night with a few (or a bunch) glasses of vino. My husband loved this cake, but when I asked him if it was better than sex he just grinned.
I can't wait to see what my fellow bloggers came up with! Don't forget to click my link below to vote for me.
Ingredients
1 box chocolate cake mix (+ whatever it calls for on the back), we used gluten free
1 can sweetened condensed milk
1 jar hot fudge sauce, we used gluten free
1-8 oz container of cool whip
4 Skor Bars, crushed (or Heath Bars)
Instructions
Make and bake cake according to box directions. As soon as it comes out of the oven, poke holes with the handle of a wooden spoon all over the cake. Pour sweetened condensed milk over the top. Let cool completely. Next spread fudge over the cake, and put in the fridge to set. When it is cool, spread coolwhip over the top and then top with crushed Skor bars. Refrigerate leftovers.